The best security for the best WiFi.
eero Secure combines the best security features and tools into one subscription to keep your personal information and devices safe.
View Plans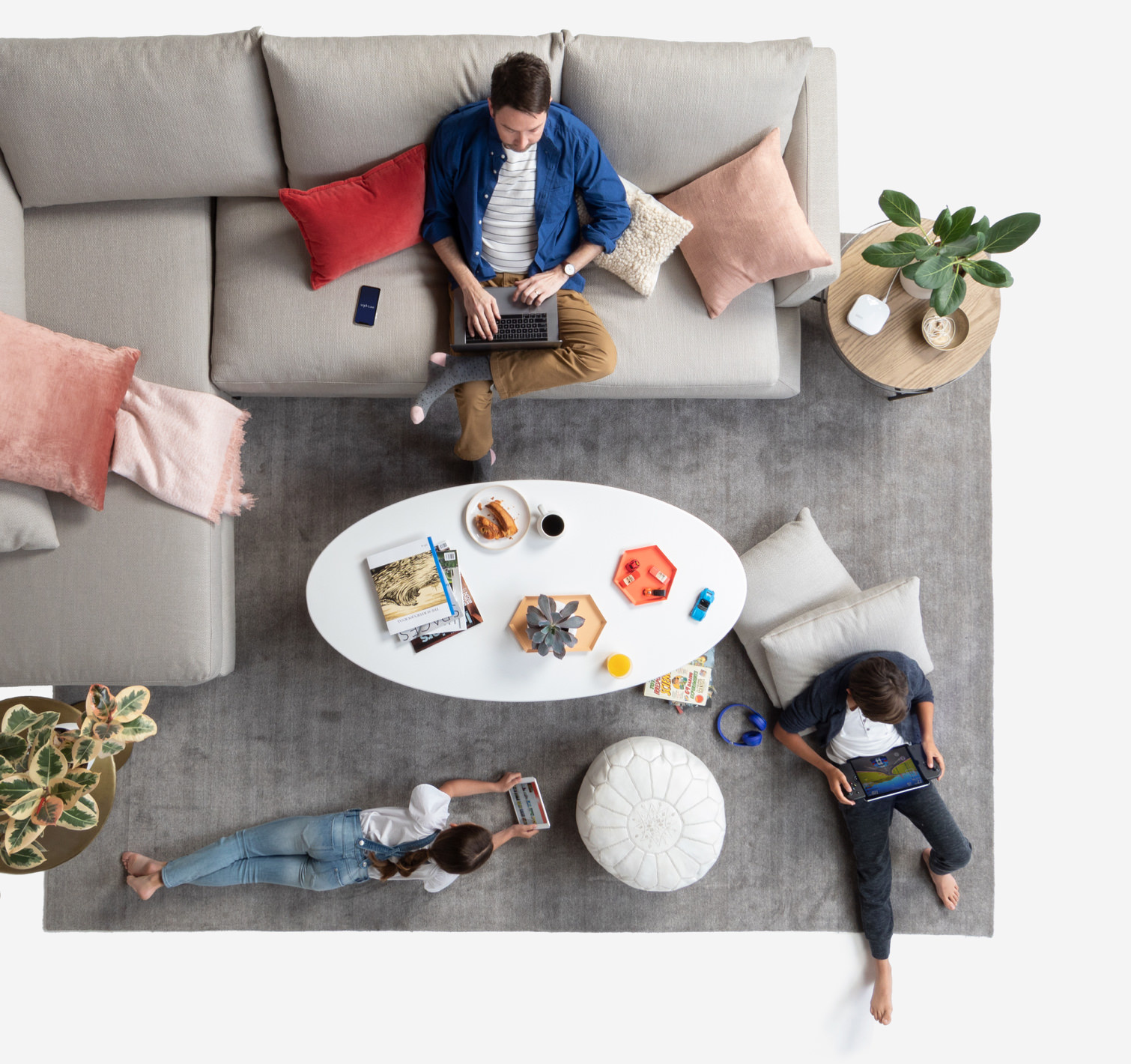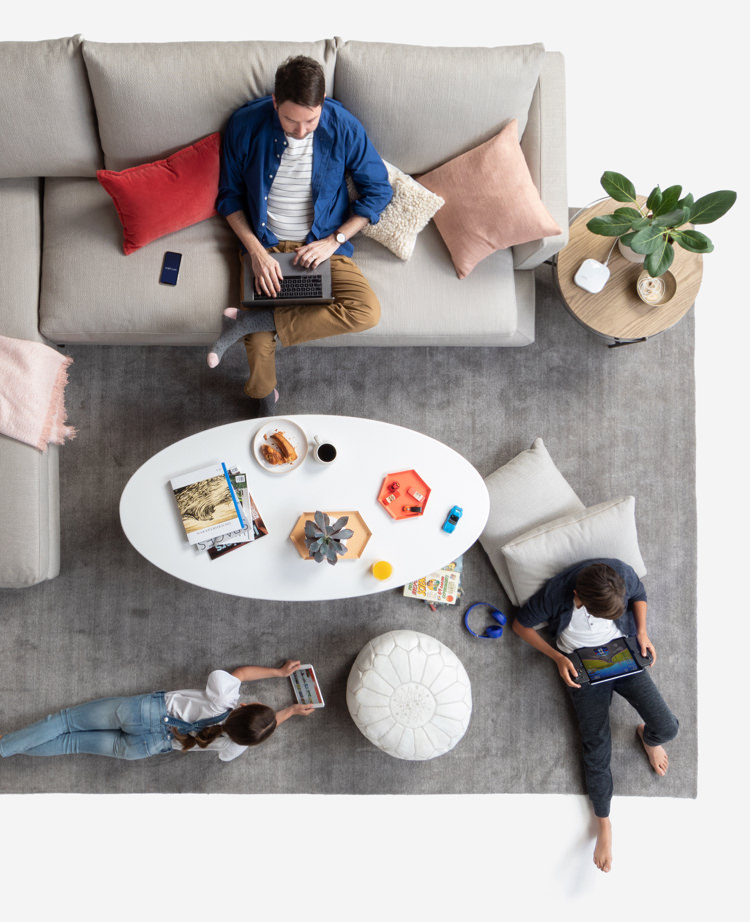 Life happens online.
But increased access brings
increased risk.
eero Secure is the only service you need to keep you and your family's personal information, devices, and network protected from online threats.
Stay protected with eero Secure
eero Secure
$2.99/mo
($29.99/yr)
eero Secure+
$9.99/mo
($99/yr)
eero Secure

$2.99/mo
($29.99/yr)

eero Secure+

$9.99/mo
($99/yr)

Protect all your devices from threats

Block inappropriate content

Speed up the web by blocking ads

See how devices use your network

The best password manager

The VPN built for everyone

Antivirus for Mac and Windows

Get Secure
Get Secure+
What's included
Get these security and privacy features with eero Secure.
By checking the sites you visit against a database of millions of known threats, eero Secure prevents you from accidentally visiting malicious sites without slowing anything down.
eero Secure automatically tags sites that contain violent, illegal, or adult content so you can choose what your kids can and cannot visit right in the eero app.
Get rid of annoying ads and pop-ups on all your devices. Ad blocking also improves load times for ad-heavy sites so you can browse and stream faster than ever before.
Upgrade to eero Secure+ to access all our favorite, top-rated security apps.
With encrypt.me, you can browse the web privately and securely with a VPN. This is ideal for people who work from home or when using potentially insecure public WiFi at cafes and airports.

5 accounts
1Password
Password manager
Stop using the same simple password for all your logins and get a password manager that can safely create, store, and share unique passwords in one central place.

5-member plan
Malwarebytes
Antivirus software
This anti-malware software scans, cleans, and protects your computers and mobile devices from viruses, ransomware, and more. Malwarebytes works on and off your eero network for non-stop protection.

3 devices
INDIVIDUAL COST BREAKDOWN2
Save 66%
$99
1-year subscription
GET SECURE+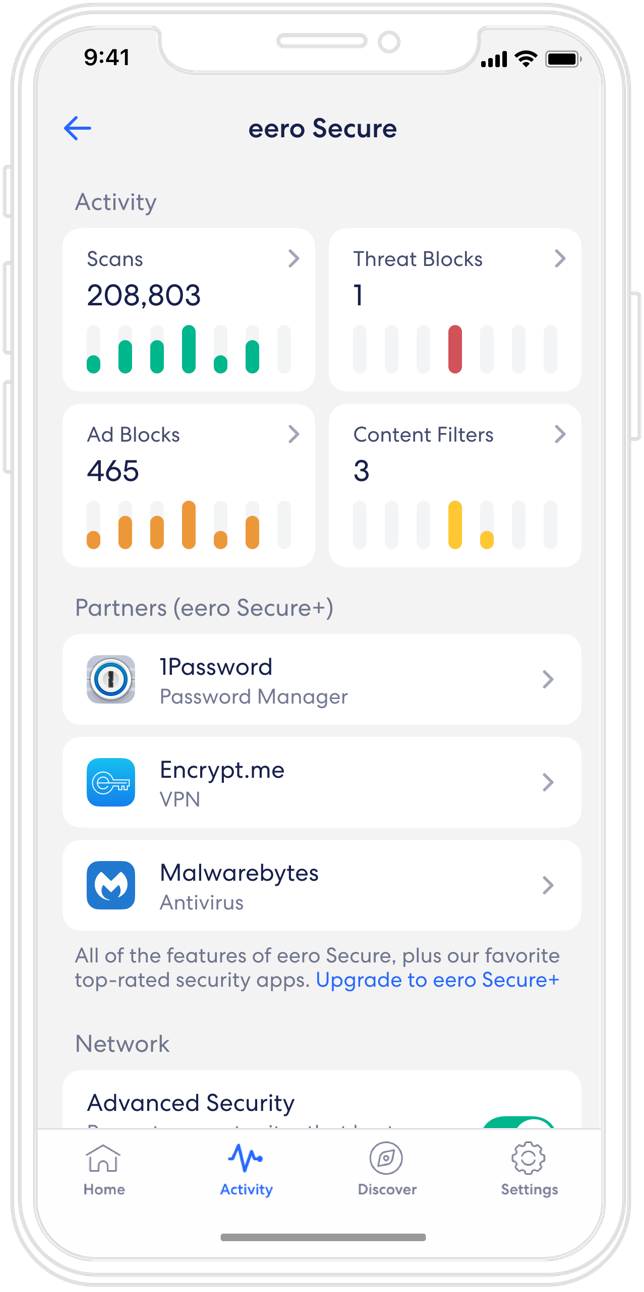 Security made simple.
Advanced security doesn't have to feel advanced. With eero Secure, you can manage all your security settings and keep track of your network's activity in one simple dashboard.
See security at work.
Did you know that eero Secure blocks about 150 harmful sites from each home every week? Stay in the know with our weekly report that details blocked threats, number of attempts and any other security updates for your household.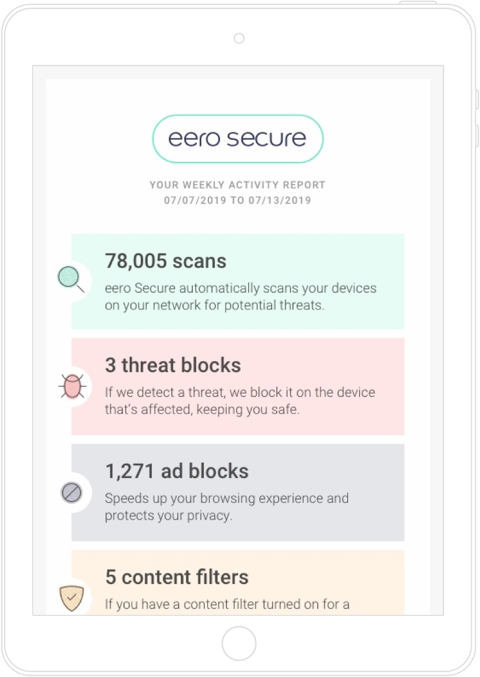 Am I eligible for a eero Secure and eero Secure+ subscription?
After you set up your eero device then you are eligible to purchase a eero Secure subscription. Before you set up a device you can review what subscription would work best for you. A trial of eero Secure starts immediately when your device is set up. This way you can use the benefits while you decide what subscription is best for you.
What if I already subscribe to one of the partner apps?
If you already have one of the partner apps included with eero Secure+ you can easily transfer your subscription by following the instructions in our support article.
How do I activate my eero Secure or eero Secure+ purchase?
You should receive an activation code to the email used for your purchase. Once you receive your code, take the following steps to activate your eero Secure membership:
Visit account.eero.com in your browser
Log in using your eero account details
Click the 'subscribe today' button
Select the plan you purchased
On the billing page select the yearly option
Add your credit card (you won't be charged again)
Type or paste your promo code into the promo code area and click 'apply'
Click on 'place order'
Once done, your eero Secure membership will begin and you can start to use all the included services.
eero Secure can be used with any eero system not in bridge mode. To learn more about bridge mode checkout our support article.