The smartest
WiFi on the block.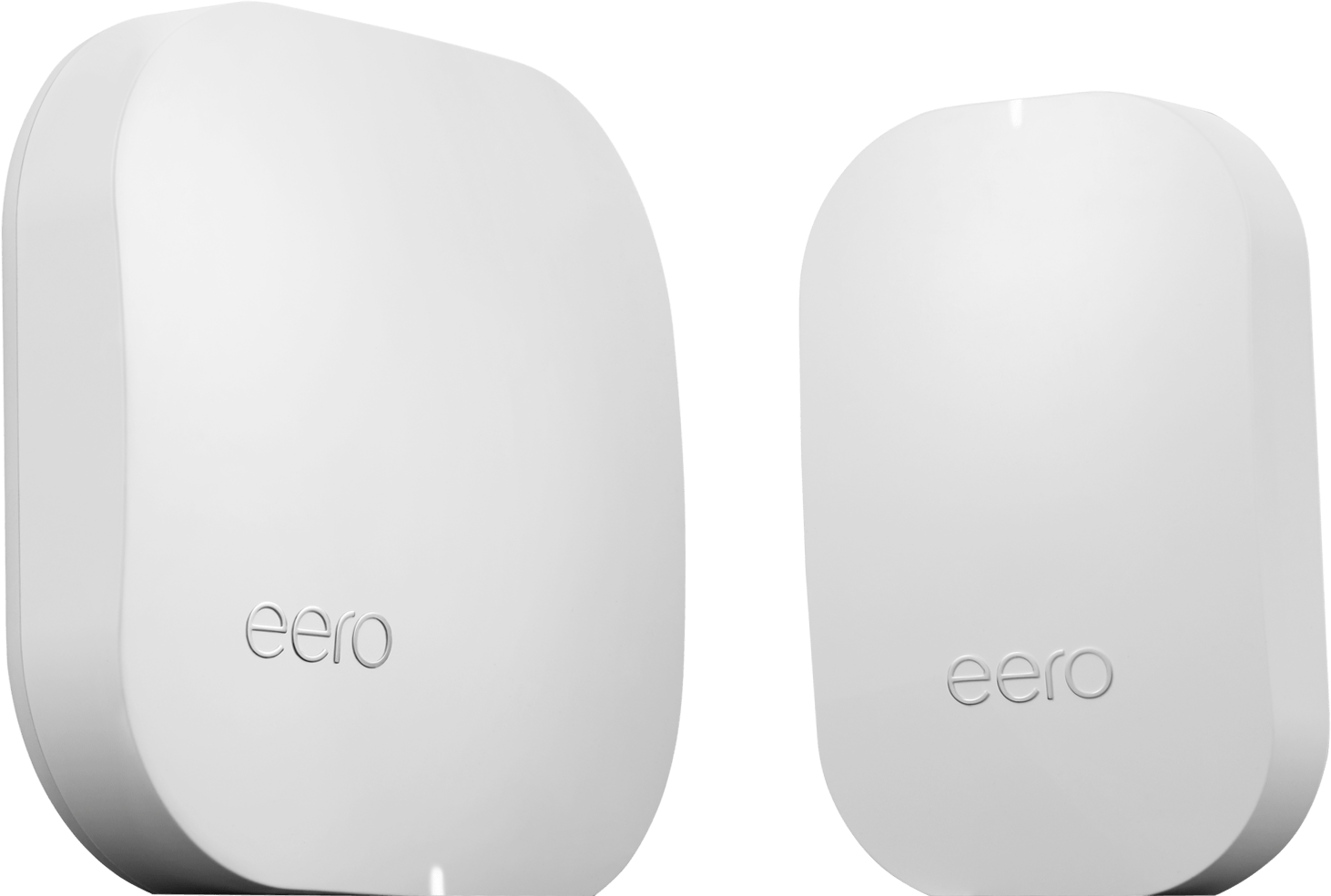 eero
The all-new eero is the same form factor as the original, but more than twice as powerful. It's the only WiFi access point of its size that's tri-band, meaning it can broadcast on three wireless radio bands simultaneously. With two Ethernet ports, eero is perfect for media rooms or anywhere you have Ethernet wiring.
eero Beacon
Despite being half the size of the original eero, eero Beacon is a full-fledged access point with 30% better performance. Beacon plugs directly into any outlet and easily expands your system to cover every corner of your home. It also includes a handy and intelligent LED nightlight that adjusts brightness depending on the time of day.
Next-generation mesh network technology.
eero TrueMesh™ software is built from the ground up to work perfectly with eero hardware. Developed using machine learning and data collected from hundreds of thousands of real homes, TrueMesh's dynamic routing algorithms ensure there isn't a home layout or connected device eero hasn't encountered before.
Unlimited Mesh
Dynamic Rerouting
Mad hops,
mad power.
With TrueMesh, WiFi hops between eeros to travel down hallways or go around walls. Most other WiFi systems only allow for one hop in any direction — so something as simple as a wall can mean that your devices can't get the WiFi they need. eero allows for more hops with less speed degradation — so you can cover any home and navigate around any obstacle.
Congestion solved.
TrueMesh technology knows the signal strength between each eero in your home and calculates the best path from your device to the internet. If there's a disruption on any part of your network — like if a pet knocks a Beacon out of the wall — TrueMesh dynamically reroutes traffic to keep it perfectly balanced. All this happens in the background so you don't notice a thing.
Ethernet Compatible
Whether you have Ethernet installed throughout your house or just in a single room, eeros can automatically mesh over Ethernet. As the only system that can leverage Ethernet wiring in any configuration, eero ensures you always get the fastest speeds and the best coverage.
OVER-THE-AIR UPDATES
The best keeps
getting better.
eero software automatically updates about once a month, making eero the only company that keeps your system at the cutting edge, even after you buy it. Our regular software updates range from bug fixes to performance improvements to exciting new features — such as enhanced speeds or a custom Amazon Alexa skill.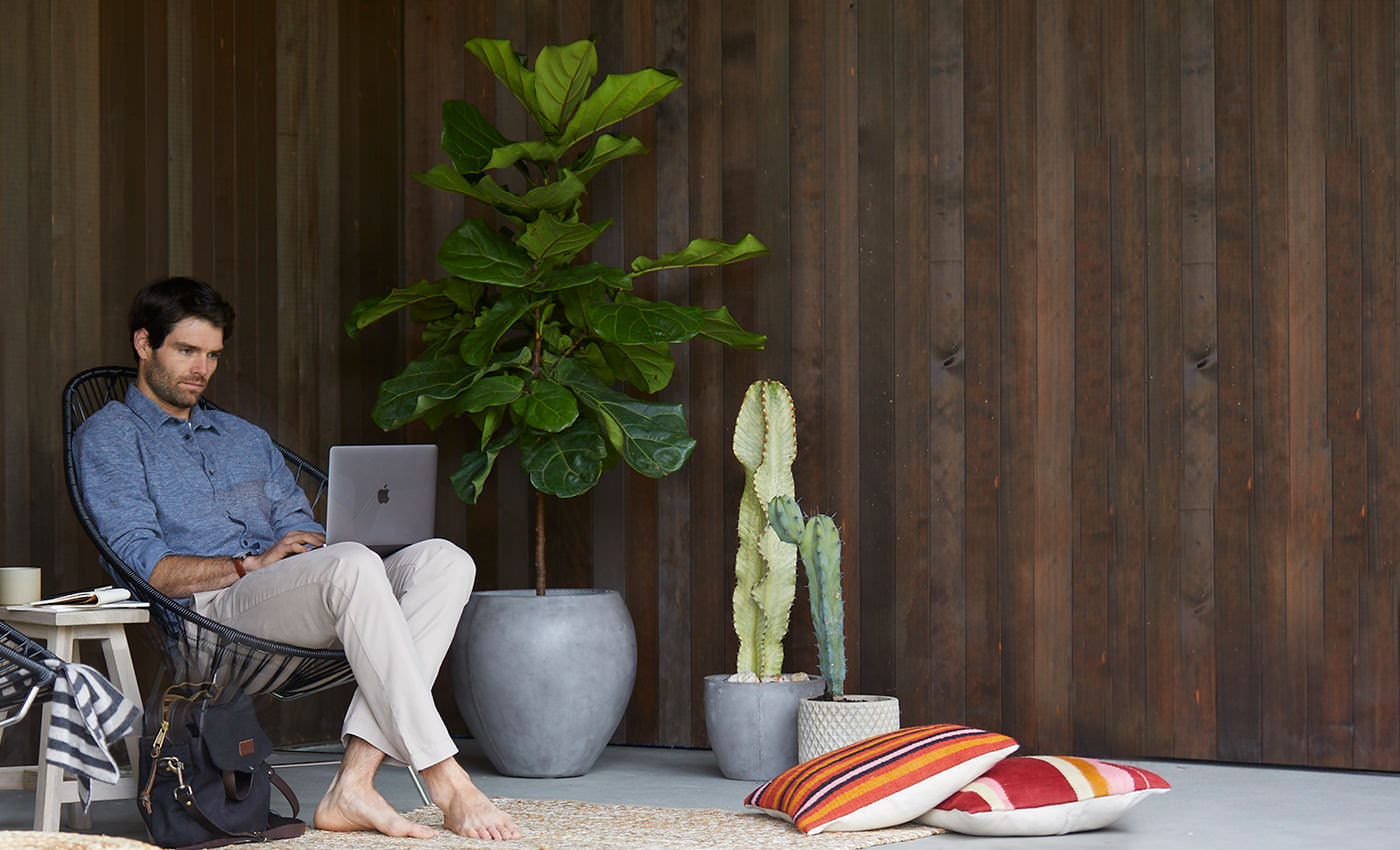 Network security
for the connected home.
As you bring more and more connected devices into your home,
you need a network that's secure enough to protect the data and devices on it.
Receive a single-use code via text message to gain administrative access to your network and ensure secure setup.
Unlike other WiFi systems, eero's software updates automatically so you always have the latest features and security.
eero systems use Transport Layer Security (TLS) and WPA2 encryption to maintain a secure connection between your eeros, devices, and the cloud.
Regular audits of the entire eero infrastructure are run by third-party security firms.
Every component of the eero system uses best-in-class encryption and security protocols to keep your network and data secure.
We work with the global research community to find and fix any security issues — before you experience them.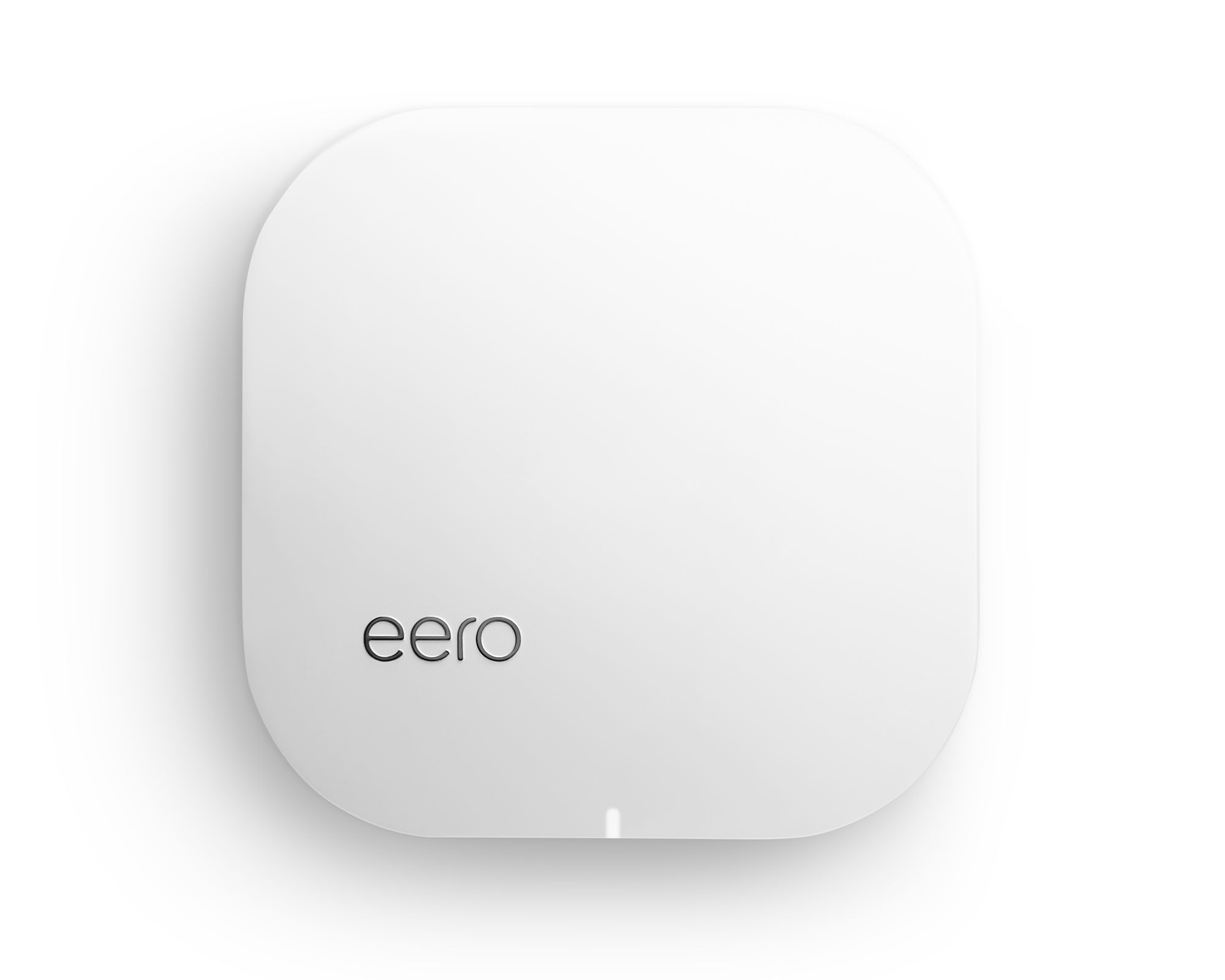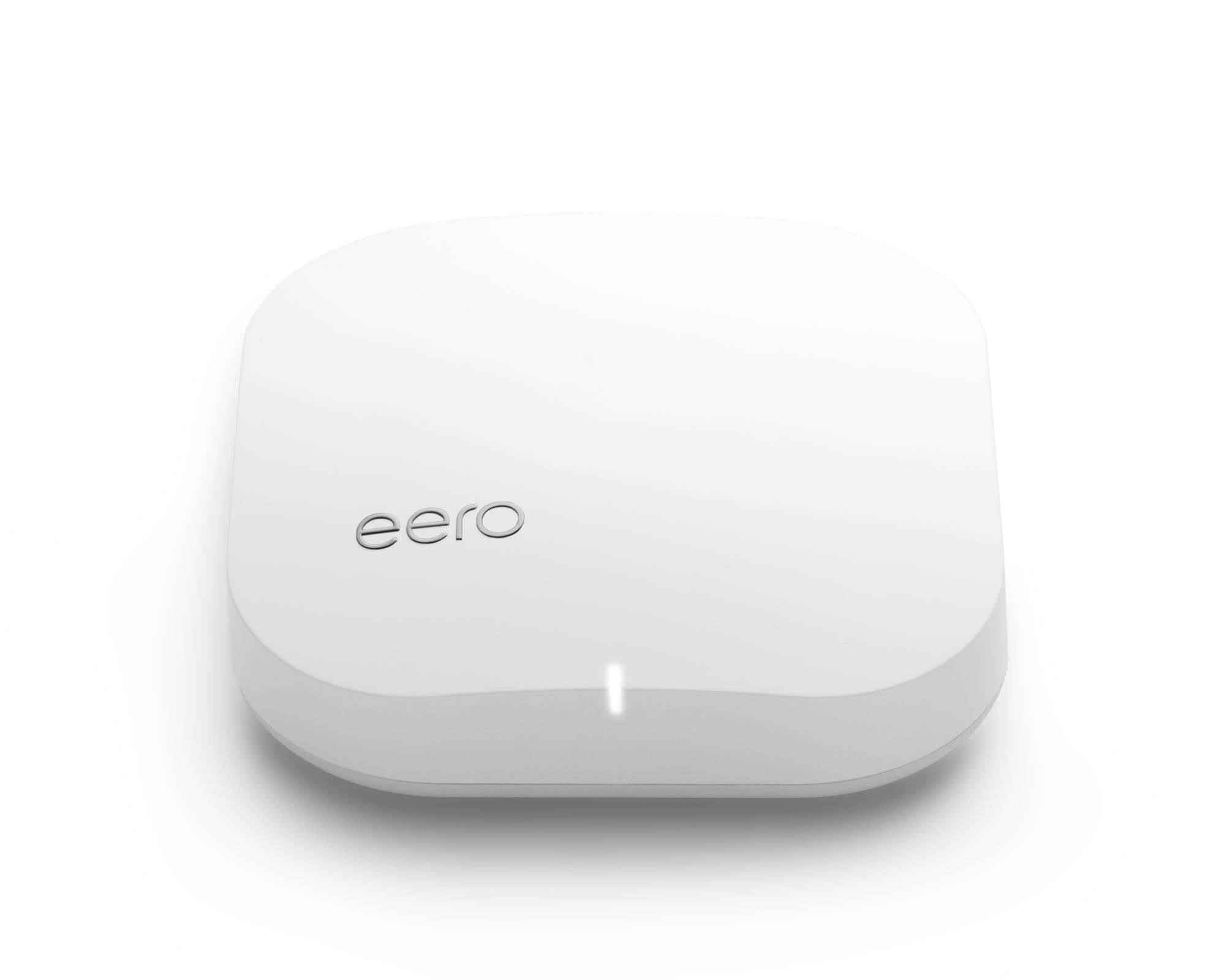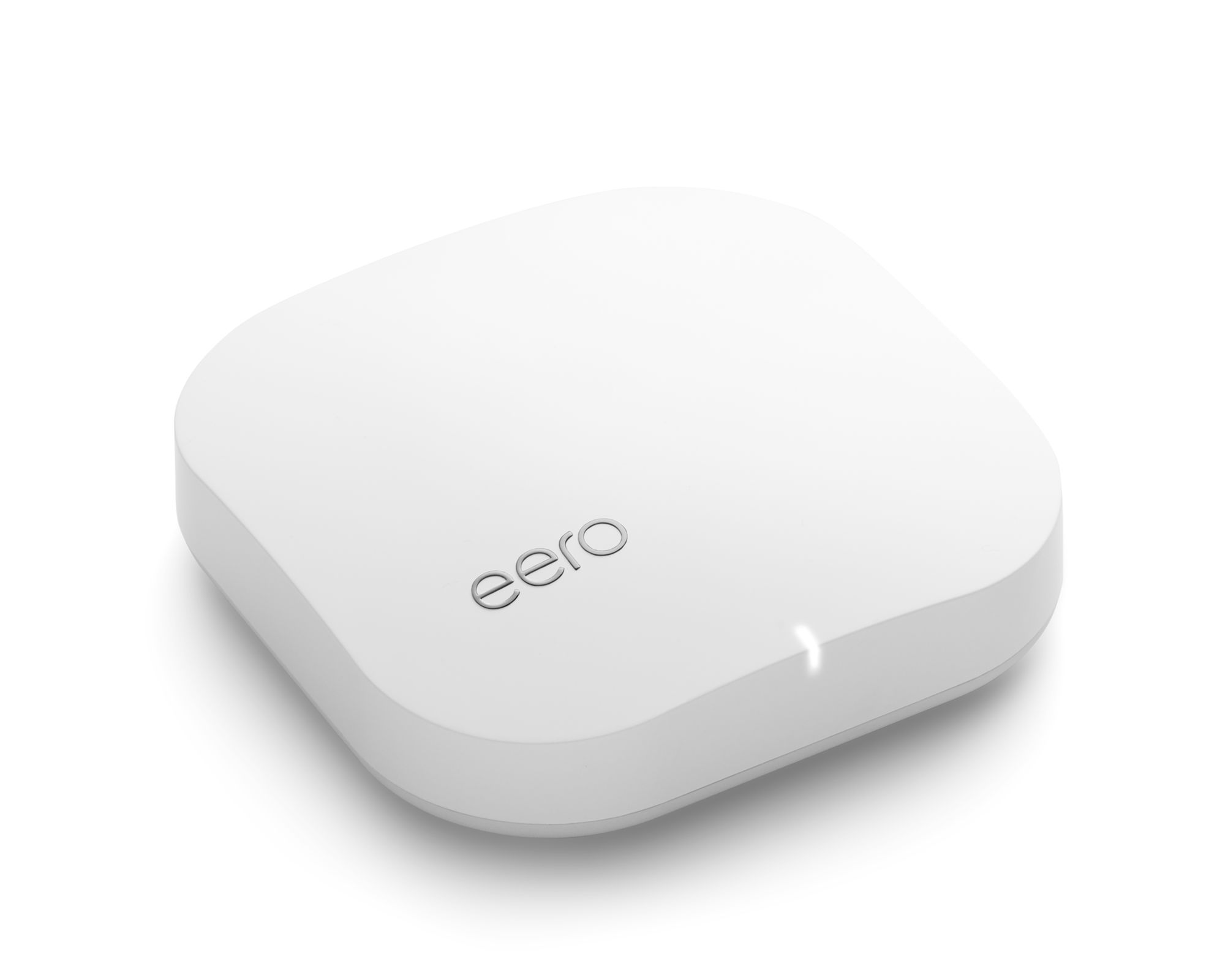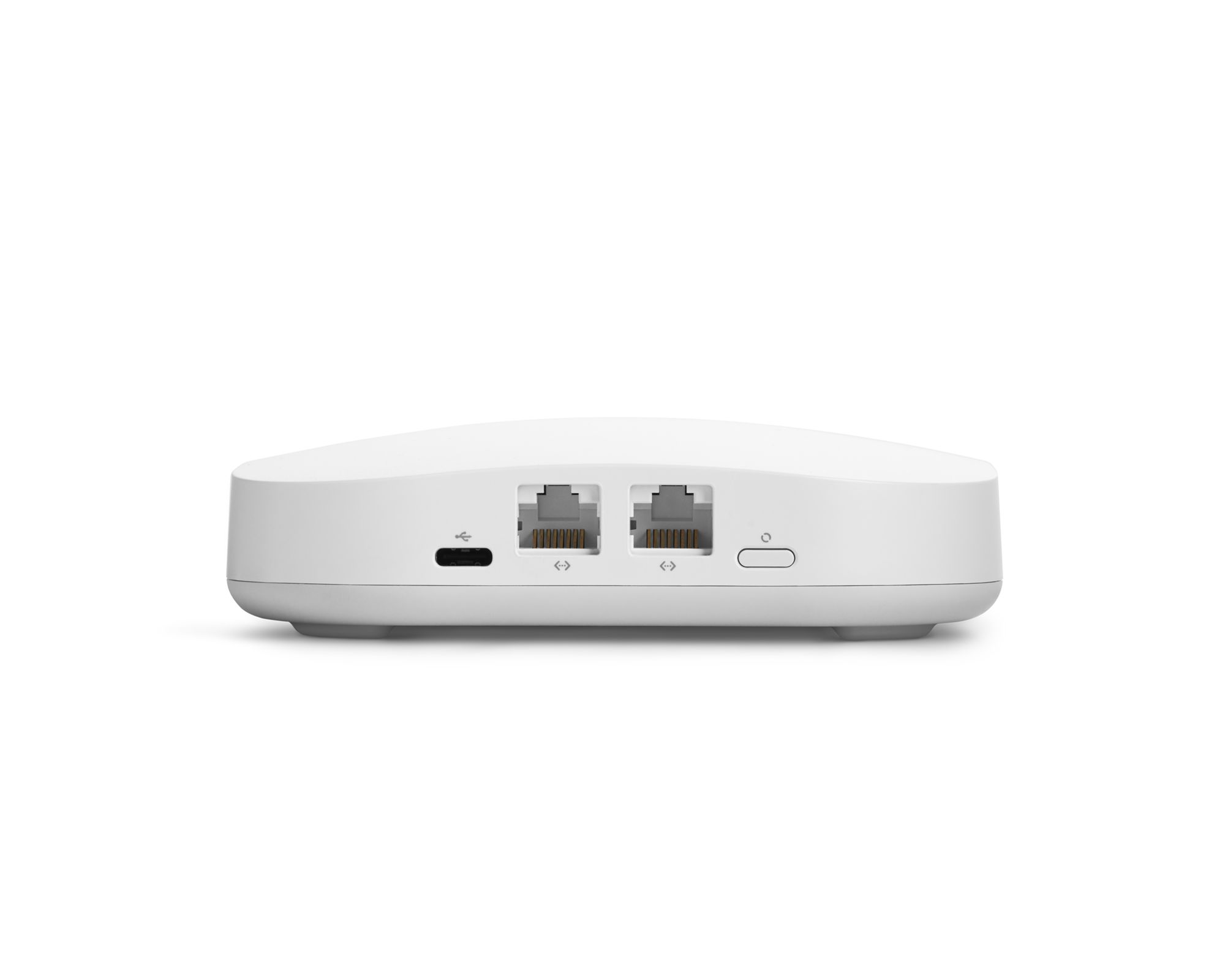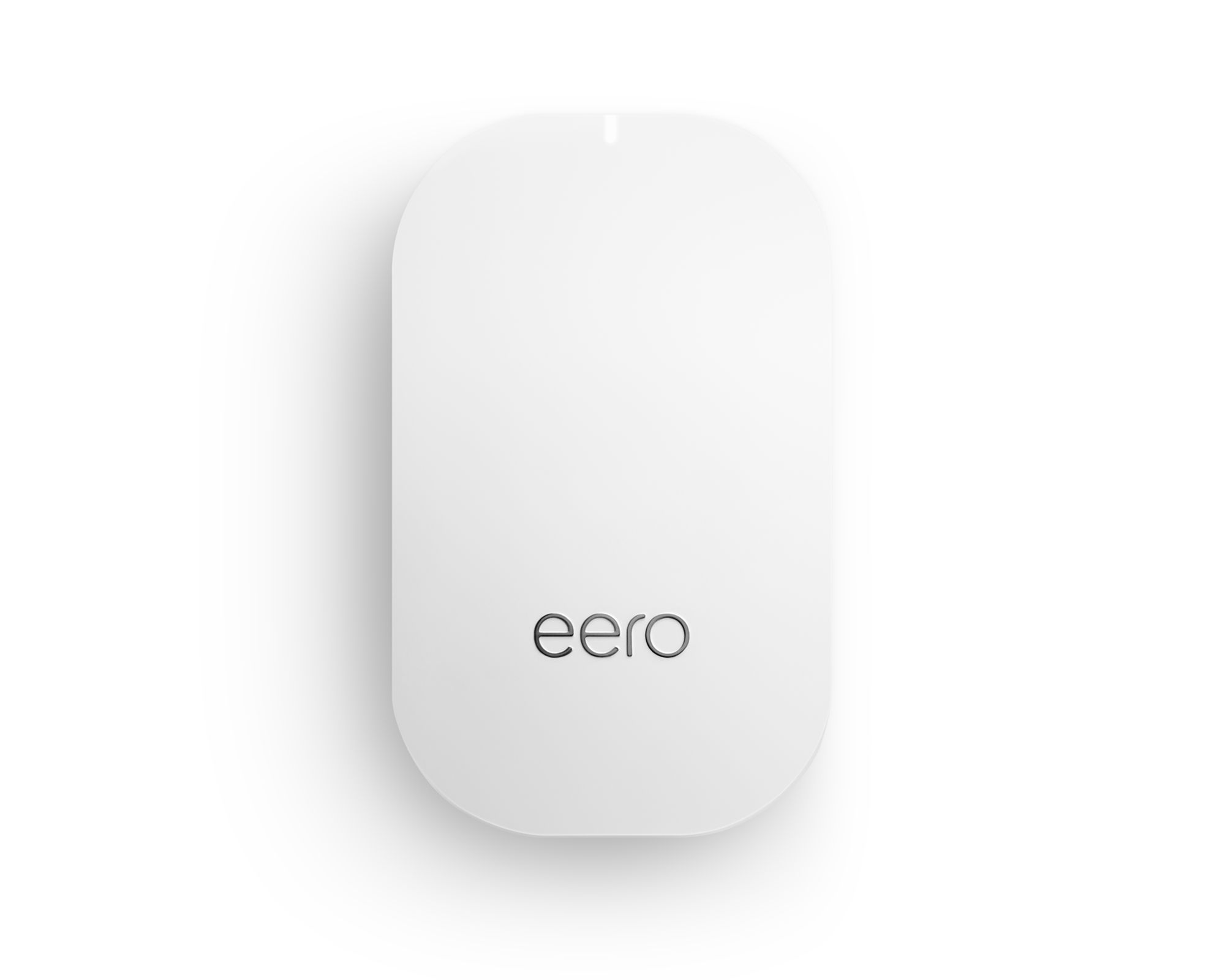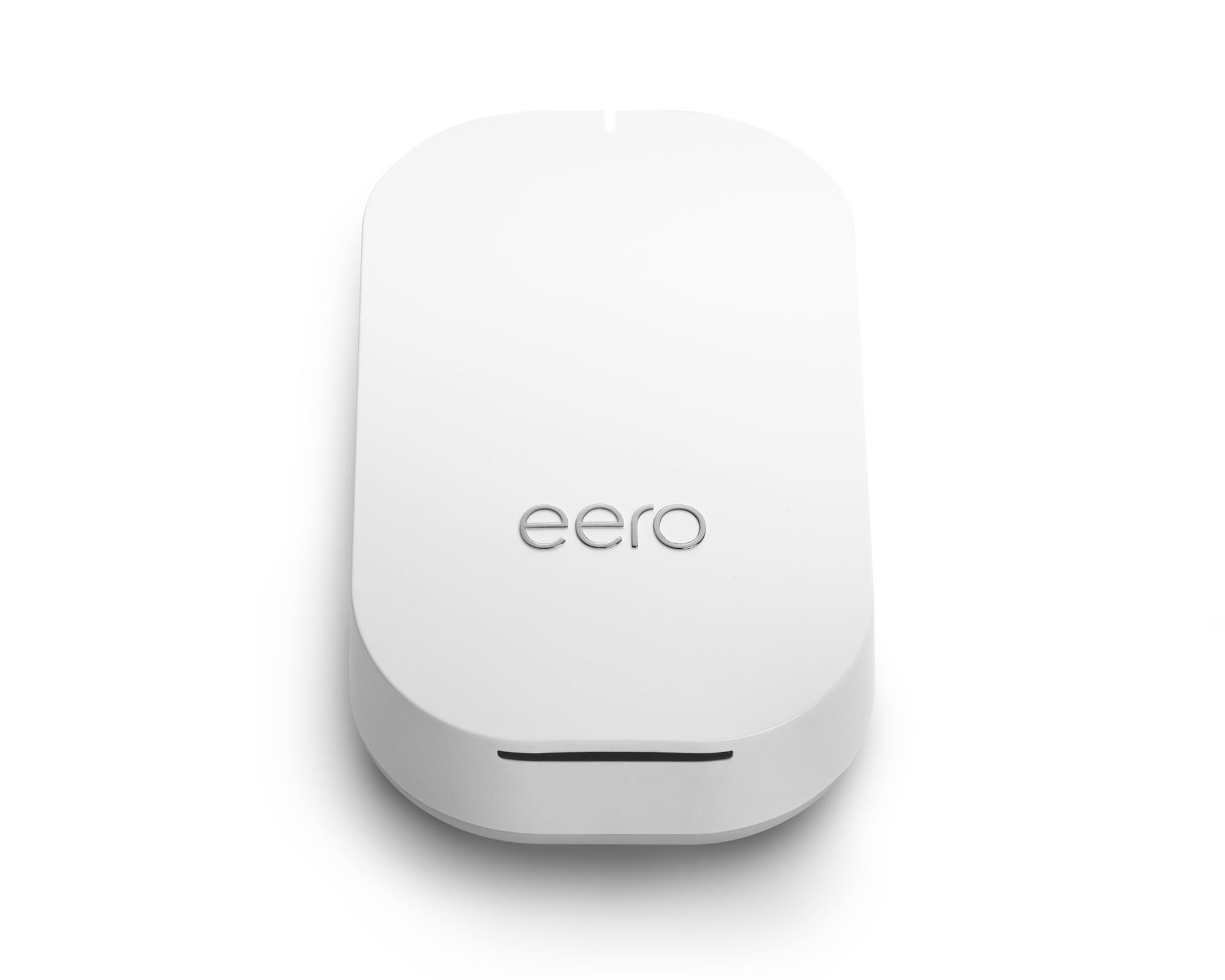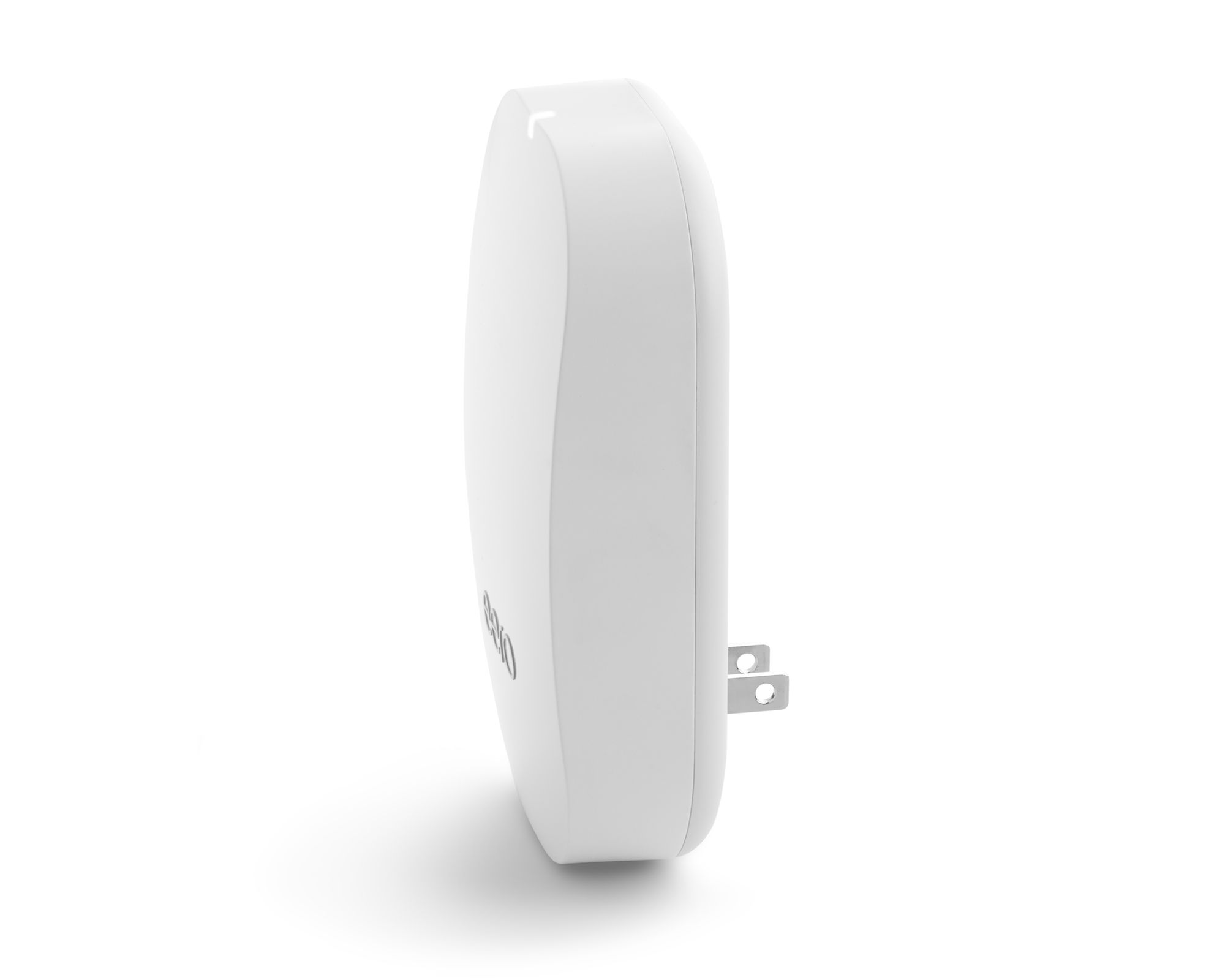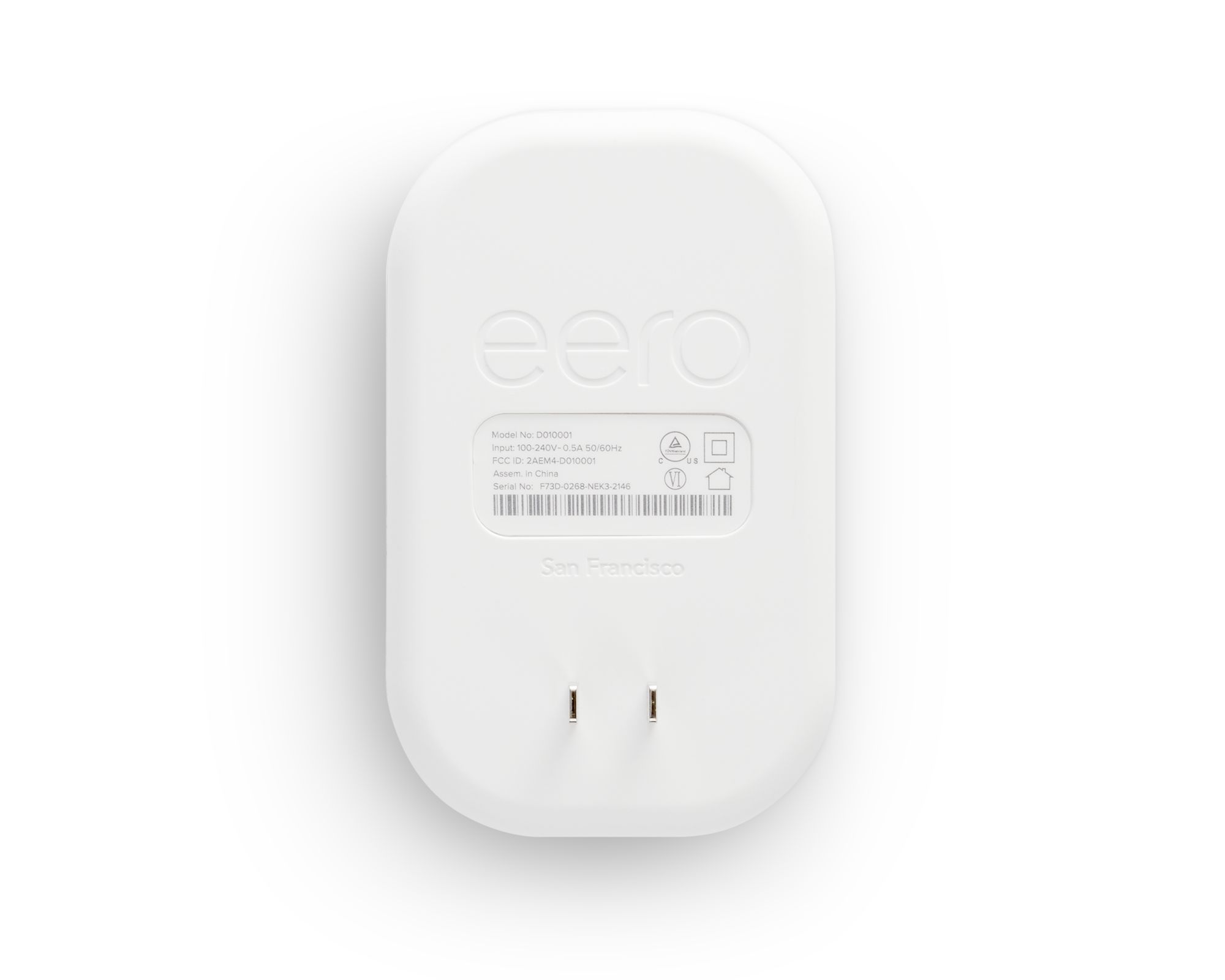 eero:
Tri-band WiFi radios, simultaneous 2.4GHz, 5.2GHz, and 5.8GHz wireless
2x2 MU-MIMO, beamforming, IEEE 802.11a/b/g/n/ac
eero Beacon:
Dual-band WiFi radios, simultaneous 2.4GHz and 5GHz wireless
2x2 MU-MIMO, beamforming, IEEE 802.11a/b/g/n/ac
eero:
Dual auto-sensing Gigabit ports for WAN and/or LAN connectivity
eero Beacon:
None
Thread 1.1 Border Router, Bluetooth® LE 4.2
eero:
None
eero Beacon:
10 Lumen LED nightlight, with automated dimming
Supported iOS or Android™ device, Internet service (with cable or DSL modem, if required). See eero.com/requirements
Processor, memory and storage
700 MHz quad-core processor, 512MB RAM, 4GB flash storage
Security and network services
WPA2 encryption, Family Profiles, DHCP, NAT, VPN Passthrough, UPnP, Static IP, and Port Forwarding
eero:
4.76in (121mm) x 4.76in (121mm) x 1.26in (32mm)
eero Beacon:
4.76in (121mm) x 2.91in (74mm) x 1.18in (30mm)
Buy Now