eero Max 7
Pack Size
Experience wired network speeds up to 9.4 Gbps and wireless network speeds up to 4.3 Gbps
eero's first device with Wi-Fi 7 technology can provide more than twice the speed of Wi-Fi 6
Supports 200+ connected devices and provides up to 7,500 sq. ft. of coverage
eero Max 7 devices purchased on eero.com come with six months of eero Plus, providing advanced security tools
eero
Max
7—a
whole
new
level
of
Up to 9.4 Gbps wired, 4.3 Gbps wireless
eero's patented TrueMesh reliability
Advanced digital security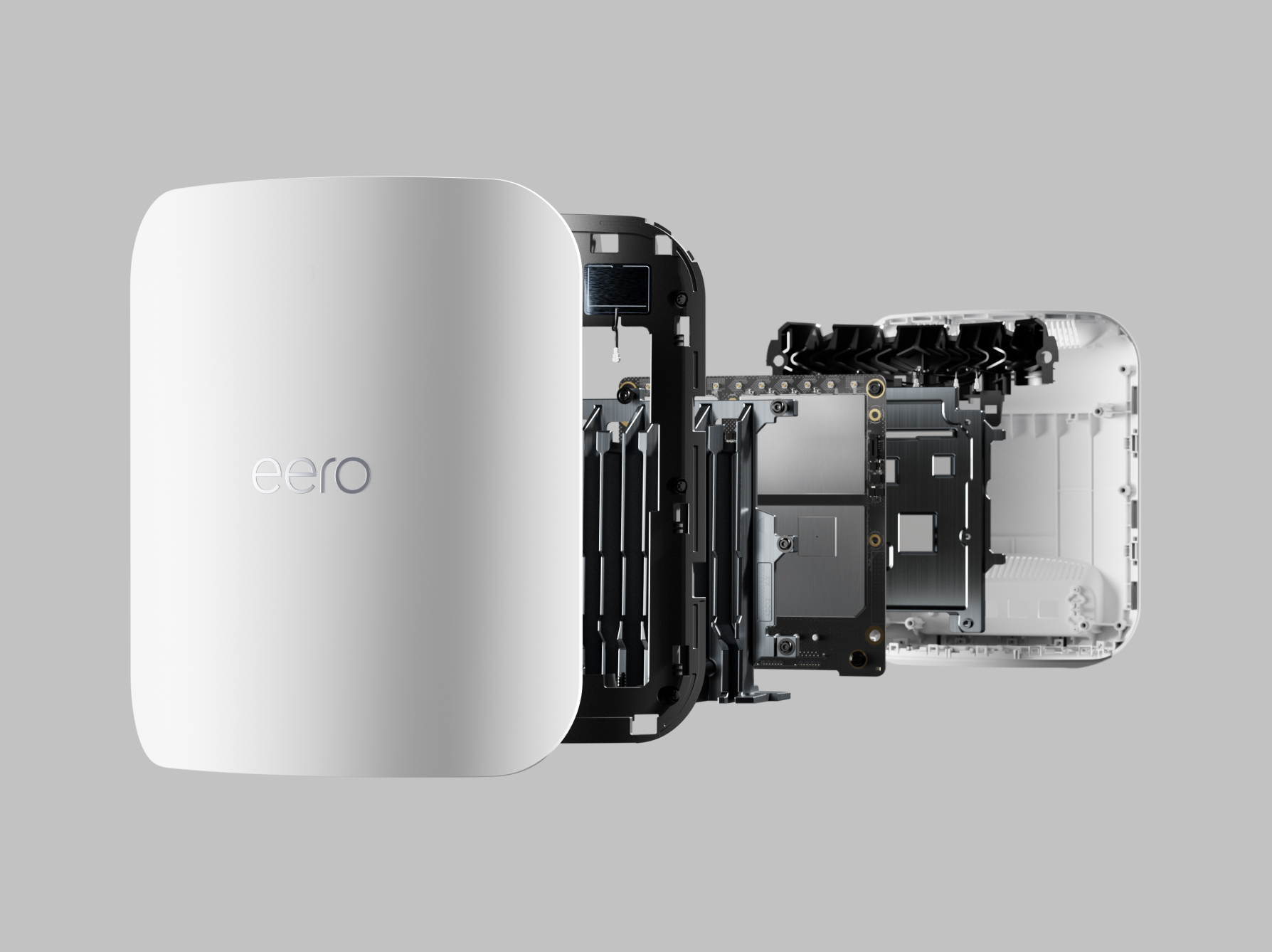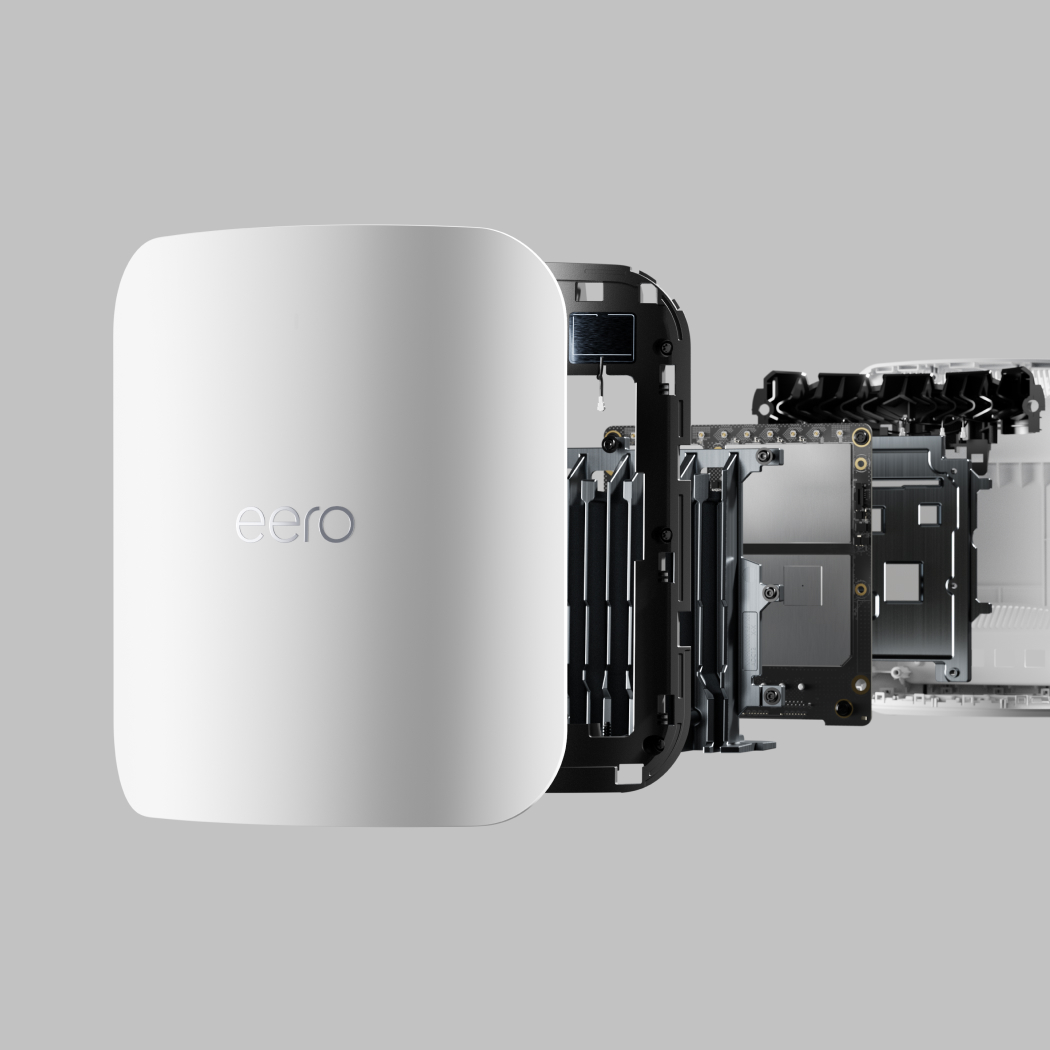 The power of Wi-Fi 7 technology. Wi-Fi 7 technology can provide more than twice the speed of Wi-Fi 6, so you can enjoy lower latency, greater capacity, and more efficiency on your network.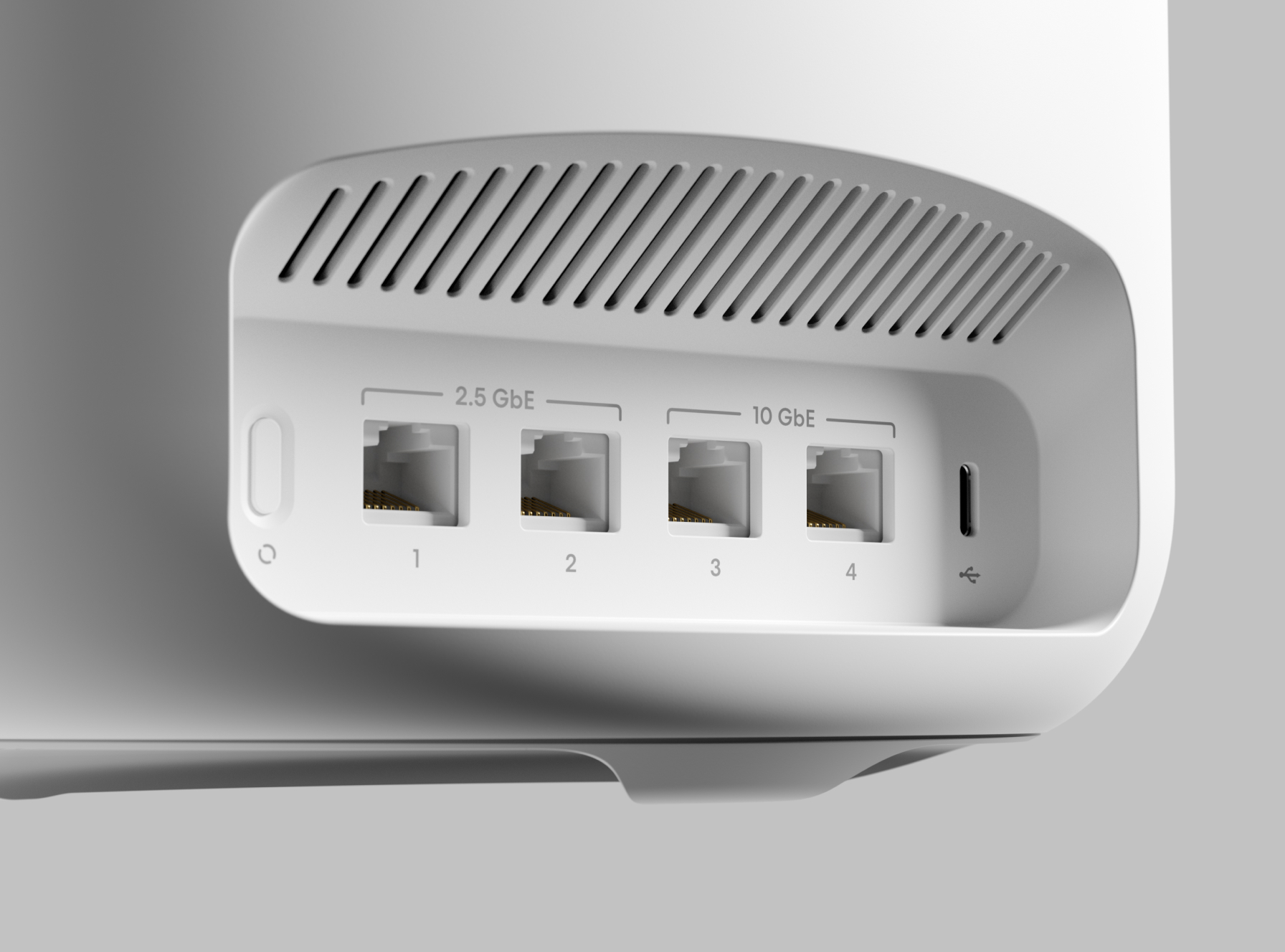 The speed of eero Max 7. With two 10 GbE ports, you can enjoy wired speeds up to 9.4 Gbps, wireless speeds up to 4.3 Gbps, and multi-gigabit backhaul speeds—making your network seriously fast.
Level up your game.
eero Max 7 with Wi-Fi 7 technology helps deliver ultra high performance gaming, ideal for applications that require high throughput and low latency.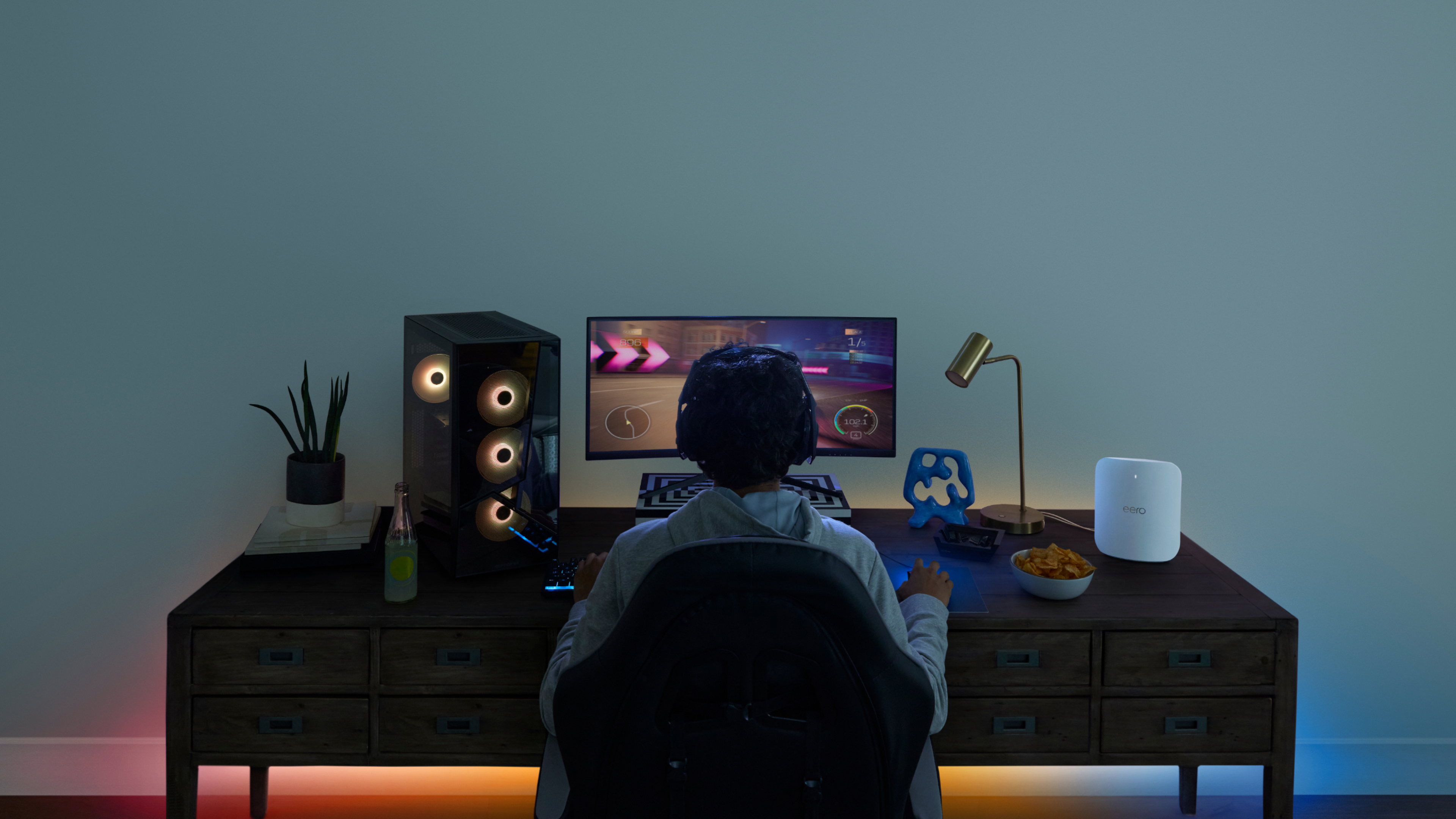 "Best Whole-Home Mesh Wifi System"
The eero difference.
Our patented TrueMesh technology dynamically finds the ideal path for data to pass through a network, limiting interference and helping ensure you have a fast, reliable internet experience.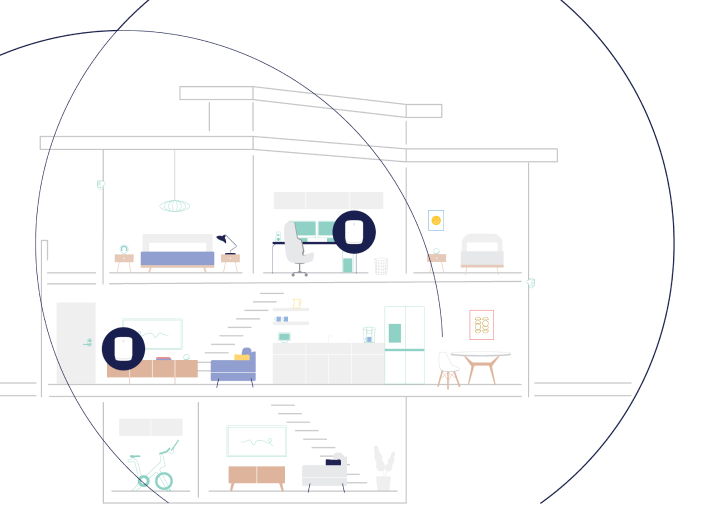 eero Max 7 includes a free six month subscription of eero Plus, providing advanced digital security tools to protect your family online and improve your internet experience. (Limited time offer. Terms apply.)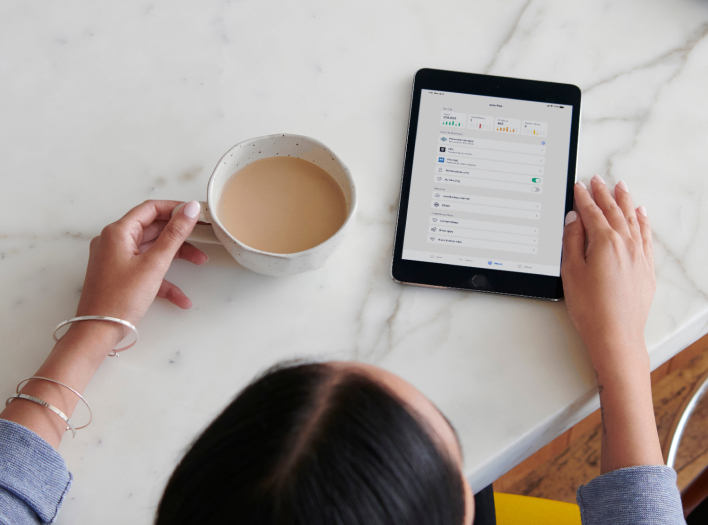 eero networks can be set up in minutes and can be managed from anywhere with the intuitive, powerful, free app.
We measure this device's carbon footprint and look for opportunities to reduce its emissions at every stage of its life cycle.

Total carbon footprint: 1,814 kg CO2e total carbon emissions.

Read the sustainability fact sheet here.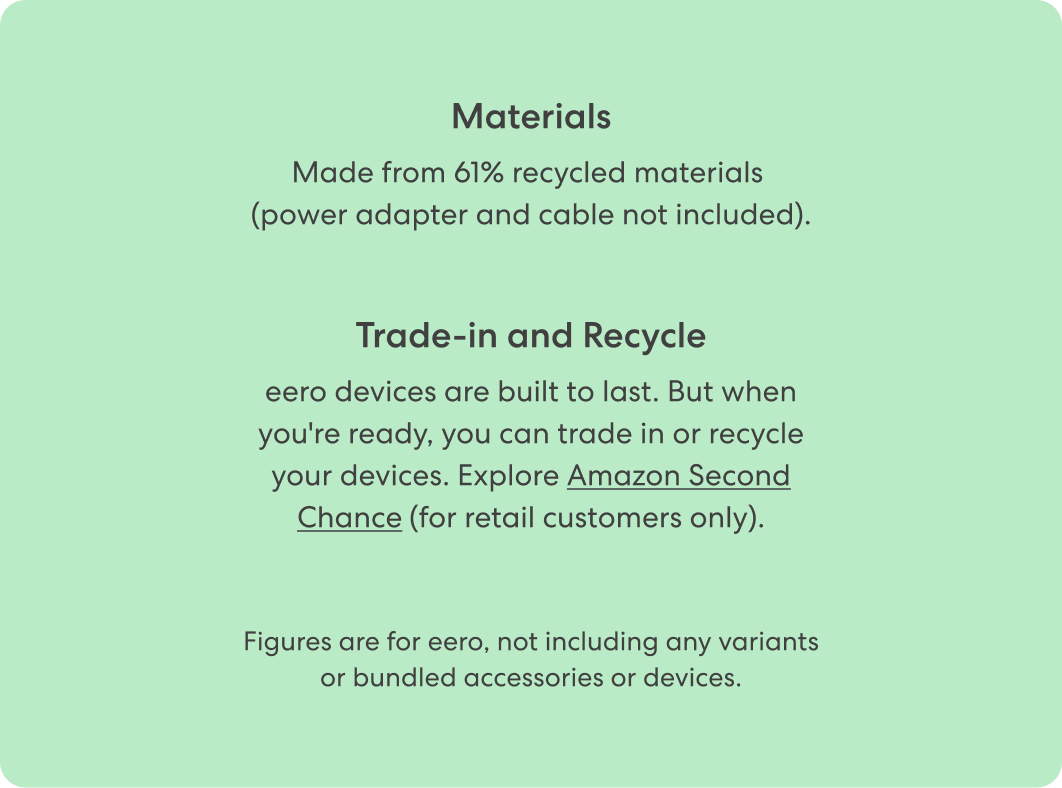 Details
Wifi connectivity
Wi-Fi 7 Tri-band concurrent 2:4:4 (802.11a/b/g/n/ac/ax/be) with support for 240 MHz channels in 5 GHz and 320 MHz channels in 6 GHz; compatible with older Wi-Fi standards
Requirements
Operating: 32°F to 104°F (0°C to 40°C); Electrical: 100-240V AC, 50/60 Hz; Power supply: 45W external USB-PD
Processor, memory, and storage
Quad-core A73 processor, 2GB RAM, 4GB flash storage
Dimensions
7.24 x 8.73 x 3.54in (183.90 x 221.89 x 89.90mm) Actual size may vary by manufacturing process.
Wired connectivity
Two auto-sensing 10 GbE ports and two auto-sensing 2.5 GbE ports
Security and network services
Profiles, WPA3 (eero Labs feature), WPA2, TLS v1.2+, VPN passthrough, IPv6, NAT, UPnP, port forwarding, DHCP, static IP, and cloud connectivity
Smart home connectivity
Works with Alexa, Smart Home Hub, Thread devices and Matter and Zigbee devices (as a controller only), Bluetooth Low Energy 5.0
FAQs
What is Wi-Fi 7 technology?
Wi-Fi 7 technology is built to support faster speeds, lower latency, increased capacity—and is more efficient than previous generations, offering speeds up to two times faster than Wi-Fi 6.
eero replaces your router with a mesh-capable router to offer you a strong, reliable connection throughout your space. Set up in minutes and manage everything right from the app, including ongoing updates for security patches and new features. It's smart, fast, and reliable. It's the way wifi should be.
Does eero Max 7 work with previous generations of eero?
Yes—however, combining eero Max 7 devices with older generation eero devices on the same network may result in reduced performance across your network. For optimal performance, eero recommends using same-generation eero devices across your network. In addition, you will also need to use a Wi-Fi 7-compatible connected device, supporting 320 MHz, to enjoy the full benefits of the eero Max 7. It is important to note that in every network, you will designate one eero as a gateway by connecting it to your modem using one of the Ethernet ports on the back. eero devices that can be used as a gateway are the eero, eero Pro, eero 6, eero Pro 6, eero 6+, eero Pro 6E, and eero Max 7. Once your gateway eero is installed, you may use any combination of wired and/or wireless eero devices to set up the rest of your network, as desired.
Which eero is right for you?
Product
Yes; all units
Yes; all units
Yes; all units
7,500 sq. ft.
4,500 sq. ft.
6,000 sq. ft.
eero Max 7 is subject to the disclaimers located at eero.com/legal/disclaimers

Additional Terms for eero Plus bundles:

Limited-time offer. US and CA (excluding QC/NL) only. Available to customers in the select countries specified above; if Canada is specified, excludes Quebec and Newfoundland and Labrador. The "Offer" is for a bundle that consists of (1) the specified eero device(s) (the "Offer Device(s)") and (2) access to and use of the eero Plus service for the plan duration specified (the "Offer Service"), sold on eero.com. Use of eero Plus and other eero products and services is subject to the eero legal policies available at eero.com/legal. If you violate any of these terms, this offer will be invalid. Offer is non-transferable, may not be resold, and may not be combined with other offers or discounts. If any of the products or content related to this Offer are returned, any refund will equal the proportional amount you paid for the product, subject to applicable refund policies. eero reserves the right to modify or cancel this offer at any time. Valid for customers only who are not current eero for Business subscribers, and who do not currently receive from their internet service provider an eero Device, the eero app, or an eero Product or Service (including eero Plus or eero Secure). The Offer Service is linked to the unique serial number(s) for each Offer Device, and may only be activated by setting up the associated Offer Device(s) on an eero Network; however, you may include other eero Devices (from other orders or sources) in your eero Network. The Offer Service will be associated with the eero account first used to set up an Offer Device, and will start on the day of setup (unless you are an existing eero Plus subscriber—see below in that case). The Offer Service is a prepaid plan for the specified duration and does not renew (but if you are an existing eero Plus subscriber—your previous subscription will continue, as further described below). By purchasing this Offer, you will be ineligible for a free trial of the Offer Service that you may otherwise be eligible for. Existing eero Plus subscribers: If the eero account first used to set up an Offer Device has an existing eero Plus subscription on the date of setup (including any free trial period), then the existing subscription will continue until the next renewal billing date that is at least 24 hours after such setup date, at which point the Offer Service plan will start. When the Offer Service plan ends, the existing subscription will then continue, including automatic renewal if applicable, in accordance with the terms agreed to at time of signing up to the existing subscription.